Join the Building Movement
Construction industry needs revolution and we are here to do it. It's impossible to do it alone, so we need Your help. Let's make a difference together.
ODP is for Developers
Fira Open Data Platform (ODP) is an innovation and integration platform. Application developers, construction companies, data scientists and IoT-providers can build own solutions easily and reliably. All guides and documentation are located here. ODP integrates all construction related core applications under the same roof. Fira's own applications, Fira's partner solutions and your applications can finally work seamlessly together. You can enrich your application features with data from other applications by partnering other vendors or use data collected and analysed by Fira.

Integration made easy
ODP is built by developers to developers. It's easy to get started without extra hassle.
ODP exposes RESTful APIs with JSON payload. Authentication is token-based. You manage the access on project, object level or filter the traffic by IP.

ODP as an innovation and integration platform
ODP unites end-user applications, technology enablers such as IoT and data as a clever combination, which solves real-life problems for assembler, jobsite management and office personnel. Use cases can relate, but are not limited to construction workflow, quality, safety, logistics and cost management. It works as a data hub by collecting all relevant data to common information models, which are accessed via application program interface API.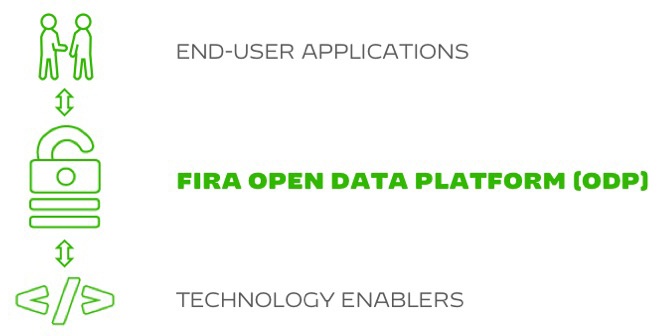 We are here to help you
Fira supports you in every phase of the development lifecycle. We can help you to validate your idea, test your solution in real jobsite with real users and even monetize it.
Construction company, you're welcome to see how digital tools and data impacts on productivity.
Contech provider and you can sell your idea to Fira, you'll have access to these jobsites. You are able to get feedback from actual users and validate value you're able to generate to construction companies.